Gregor MacDermoth

Vital statistics

Position
Unknown
Age
63 years old
Status
Alive

Physical attributes

Height
Unknown
Weight
Unknown
Dr.  Gregor MacDermoth is one of the four main characters of Arcane.
Biography
Edit
Chairman of Southwick University's Department of Anthropology, 63-year-old Dr MacDermoth is a world-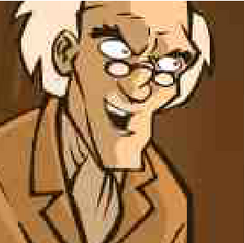 renowned specialist on ancient Egypt and American Indian tribes.
Twenty-some years ago, he and his pregnant wife settled among a tribe in Congo whose warriors were devoted to the worship of and unknown divinity named 'Tulu'. During one of their magical ceremonies, a terrifying creature appeared, driving Mrs. MacDermoth permanently insane. After giving birth to Ophelia, she was hospilalizrd for the rest of her life.
Overcome with grief, MacDermoth decided to avenge his loss by learning everything he could about the Great Ancients and the ancestral magic associated with them. He chased their worshippers to all corners of the world and foiled plans to restore the Great Ancients' rule over Earth and humanity.